POV: Academic.  DIFFICULTY 1.   LEVEL 1 – 1
Have you seen those infomercials where they show some inferior product used by a poor soul who lives in a black and white world? The person who struggles to do a simple task due to the incompetent design of an inferior product? Perhaps water leaks on the sofa, food accidentally falls on the floor, or the cat just smells too bad to sit next to.
This black and white disaster infomercial scene is part of a formula that is effective at conveying an idea by creating an emotional through line from the frustrating experience of using the inferior product to the newfound joy of using whatever product that's for sale. The music, the coloration, and the histrionic performance are designed to get you to feel great about the for-sale product. Whether this miracle product works or not, the point is these scenes are not designed to inform viewers of the pros and cons of each option. The sale is the bottom line and the less customers think and the more they feel, the better.
The same approach is being used commonly within games criticism videos, and it comes mainly in the form of youtube level design analysis. The analyst walks through a level of a game explaining what a first-time player thinks, feels, and how they play. This approach often notes how gameplay concepts are taught and supposes how a player with no prior knowledge of the game, the genre, or even video games might progress.  I call this approach to critique theoretical player perspective (TPP) analysis.  
Though there are many types of players out there with various levels of skill and experience, the one thing we have in common is that we all have a similar first time experience with a game. We all start without knowing exactly what we're doing or exactly how everything works, and we take things one step at a time. Focusing on this first time experience is a great way to establish the starting point of the players skill acquisition trajectory. With this knowledge we can better understand why certain players give up or why some levels "click" for players.
The problem with the theoretical player perspective when applied to first time players is it tends to paint a picture of a player who is astute, quick to pick up even the most minute of details, thoughtful, reflective, and patient. This depiction is just as extreme as the black-and-white frustrated infomercial people but in the opposite way. I'm not assuming this theoretical player can't exist; I'm saying it is hard to find all these these qualities within a single person. It's even harder to find someone who exhibits these qualities when playing video games, which are largely consumed for entertainment, as doing so requires a high level of attention and self-discipline.
Most players' actual first experience with a game is far more stressful, frustrating, and unfocused than analysts would have you believe. The explanations TPP analysts provide tend to be oversimplifications of how any player would learn. Sure, a player is likely to pick up on some of the correct details and connect some of the dots, but they're not going to latch on to all the details, and certainly not so cleanly on their first time playing a game.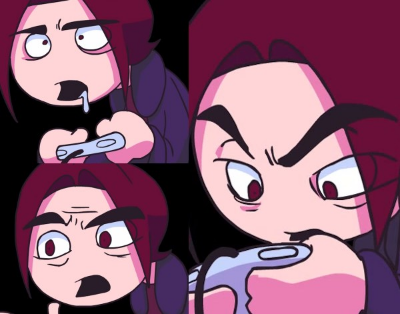 image and example from Sequelitis
The final problem with the theoretical player perspective analyses is that they tend to only focus on tutorials and how the player learns the basic rules of play including new enemy and level elements. I have yet to find a TPP analysis that comments on the hints, scaffolding, or tutorial design of higher levels of play. Initially, this may not seem like a big deal. After all, a critic doesn't need to be the best player or a highly-skilled player to examine the design details of a game and write a thoughtful analysis. However, I'm worried that the lack of coverage for the higher design of these games is a symptom of a bigger issue.
It's one thing for a critic to not have time or energy to take their game to that "next level" whether that be attempting to speedrun, achieve 100% completion, reach a high score, or top the leaderboards. It's another thing if a critic is completely blind to high-level play. My stance is that, like in school, learning piano or any other discipline, the goal isn't to learn the basics and barely pass. Learning the basics and passing is just step one. There are many steps on the path to mastery, and once mastery is achieved  you gain access to a whole new world of expression and understanding. As my former piano teacher explained, when you learn all the notes and all the rhythms and all the fingering for a song, you haven't passed yet. In fact, you get a 0. Only after you've put in the work to smooth everything out and really practice the song until it's so comfortable in you that you have control over every phrase and note and dynamic, then you get to a level where you deeply understand the song and you can truly make the music your own. Even in school, the grade on the paper wasn't the point. Hopefully, the grade reflected your genuine dedication to learning and how much you made the material a part of who you are.
In my experience, most of what is interesting about games comes from what happens after one learns the basics. Though there may be no cap to how "high" high-level play gets, a critic's journey upwards will show in the kind of insight they bring to their analysis. Digging deeper changes the player and critic in a profound way. There's a whole world of interesting concepts and experiences in each game. Our goal here at Design Oriented is to dig deeper than others and bring you more than the typical beginner-level coverage of game design you can readily get elsewhere.